Jimmy Fallon is Taking The Tonight Show Back To It's Roots
Posted by Patty Castillo | Apr 12, 2013 | Entertainment | 0
Last week, NBC announced a successor to take over as host of
The Tonight Show
!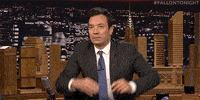 Now, don't start congratulating yourself for finally getting your time machine to work and take you back to the year
1991
. I forgot to specify: NBC has announced a successor to take over for Jay Leno as host of
The Tonight Show
. Oh wait. It's not
2004
, either. All kidding aside, it was announced earlier this month that the legendary late night talk show would have a new host in 2014 — Jimmy Fallon.
Tonight Show
viewers may be curious about what to expect. And loyal fans of
Late Night
may wonder what will stay the same. Here's what we know.
The Band
Since its early beginnings, music has been an integral part of the show. The NBC Orchestra was a standing tradition, beginning in 1954 when Steve Allen was the host. The small house band we are familiar with today was formed when Jay Leno took over in the nineties. Questlove told Fuse that they would remain with Fallon. "We're not going to
The Tonight Show
;
The Tonight Show
is coming to us," the Roots' bandleader said.
The Location
Johnny Carson moved the
Tonight Show
from New York City to Burbank, California in 1972. It has remained there ever since. But it has been confirmed that the
Tonight Show
will return to New York City when Jimmy Fallon, who currently films his show there, takes the job. Mayor Bloomberg released an enthusiastic statement concerning the announcement. Bloomberg's statement commented on the importance of production in the city and concluded: "
The Tonight Show
will bring even more jobs and economic activity to our city — and we couldn't be happier that one of New York's own is bringing the show back to where it started — and where it belongs."
The Format
There has been some speculation that there could be a return to a 90-minute format with new host, Jimmy Fallon.
Tonight Show
aficionados might remember that the show was shortened to 90 minutes in 1967, then cut again to its current 60-minute format in 1980. A 90-minute format would bring the show closer to its original form, and provide more time for celebrity interviews, musical guests, and all of Fallon's classic games and sketches — but then what about the
Late Night
spot? Obviously, there are still quite a few details that viewers can look forward to learning in the coming months. What do you think about Jimmy Fallon taking over the
Tonight Show
?