Spectrum Internet in Nebraska is Fast and Reliable
If you've had enough of the lag DSL has and want to get your tunes faster, Spectrum high speed Internet is the solution. With Spectrum Internet®, you're getting one of the top-ranked Internet service providers in America.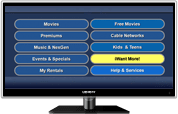 Control Your TV Schedule with Spectrum TV®
Have you seen how many cable TV channels are currently available? It just makes sense to use a cable company that can bring it all to your television at an affordable price. Spectrum offers the right cable packages, including those that offer On Demand to allow you to watch shows when it fits in your schedule. With On Demand services from Spectrum, you'll have even more options to enjoy television, such as skipping commercials, watching missed episodes of your favorite programs or even tuning in to new shows you've wanted to watch.
Equipment may vary.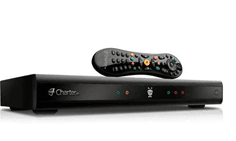 Control the Action with Spectrum
Spectrum knows Nebraskans love Nascar. It doesn't matter if you support Tony Stewart or Jimmie Johnson, with Spectrum TV® packages you get all the action in HD. Add a DVR to your programming package and record the race if you're going to be away, or use it to pause the action to grab a snack from the kitchen.